Like all of our battery tools, it is lightweight, quiet and simple to use. The FSA 45 has a built-in lithium-ion battery, conveniently charged by plugging the trimmer in using the supplied charging cable. You can use the LED charge level indicator on the side of the tool to show you how much battery life is left.

The loop handle helps you to guide the trimmer exactly where you need it and is easily adjusted without the need for tools. The shaft is extendable and the mowing head can be turned on its side, which is particularly useful for vertical edge trimming.
The FSA 45 comes with STIHL PolycutTM blades, which are quick and easy to replace without the use of tools. They are extremely efficient and give a precise finish to the lawn. Pre-cut mowing line can also be fitted to the head, but it is not included with the FSA 45 and will need to be purchased separately. 
Runtime: Up to 20 minutes
Charging time: 100% in 210 minutes, 80% in 145 minutes
Features
Quiet technology
The STIHL AI System tools are so quiet you don't even need to wear ear protection.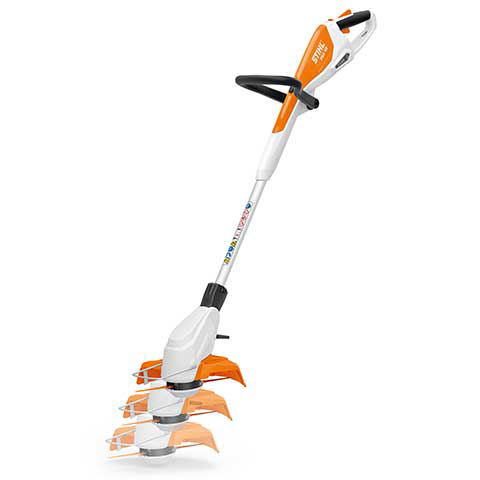 Adjustable length shaft
Adjustable by up to 7" (17 cm), the shaft length can be easily adapted to suit your height or the job in hand.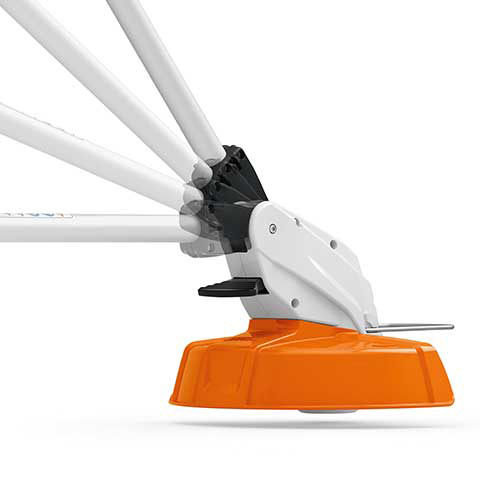 Adjustable mowing head
This versatile mowing head can be adjusted to four different angles, up to 48 degrees, to suit all mowing tasks around the garden.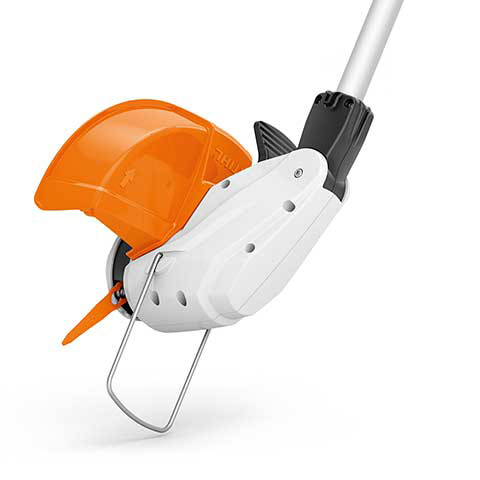 Vertical edge trimming
The rotating head can be simply adjusted 90 degrees to change the tool from a grass trimmer into an edger, so you can accurately trim around borders, flower beds and pathways.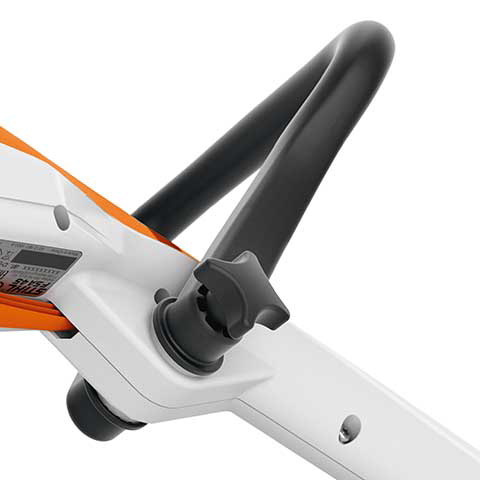 Adjustable loop handle
So that you can work in the most comfortable position, the loop handle can be adjusted to 6 different settings, up to an angle of 120 degrees.
Charge level indicator
So you know how much charge you have left in the battery, the charge level can be viewed at any time with the four LEDs on the side of the trimmer.Spare blade storage
The FSA 45 uses PolyCutTM blades, which can be easily replaced if worn. Up to five spare blades can be conveniently stored on the tool, so they are always at hand when you need them.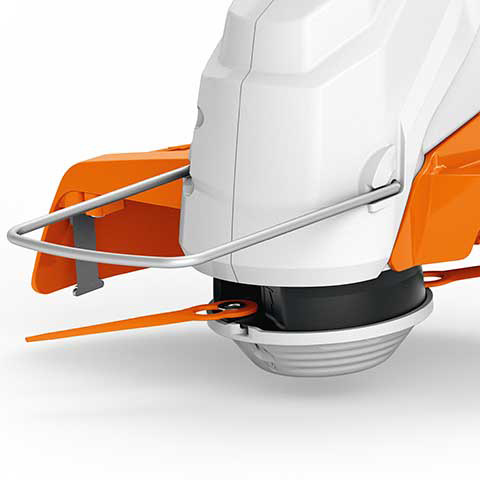 Spacer bracket
The metal spacer bracket means you can trim precisely around trees, plants and other objects. It can also be folded up if not needed.
 Activation key
The tool can only be used with the activation key. If the key is removed, the tool switches off to prevent it from being started accidentally. The FSA 45 can then be safely stored and transported.
 Charger cable
The built-in battery in the FSA 45 is easily charged using the charger cable.
FAQs
Question: What type of cutting attachment does this use?
A: The FSA 45 uses a PolyCutTM 2-2 mowing head. The PolyCutTM blades are extremely efficient and give a precise finish to the lawn. Pre-cut mowing line can also be fitted to the head.  The line is not included with the purchase of a unit, but can be bought at your local STIHL Dealer.

Question: How long does the battery last?
A: The battery will last up to 20 minutes or mow up to 250 m of lawn edges. This does depend on what is being cut and how the tool is being used.

Question: How long does it take to charge?
A: To fully charge the battery it takes 210 minutes, or to charge it up to 80%, it takes 145 minutes.

Question: What size of property will it maintain?
A: The FSA 45 is perfect for smaller city properties. 

Question: What battery does it use?
A: The tool is powered by an 18 V lithium-ion battery.

Question: Are the batteries interchangeable?
A: The batteries are integrated into the tool, so they are not interchangeable.

Question: Are the PolyCut™ blades easy to change?
A: The blades can be easily changed by simply locking them in position. No tools are needed.


Tips
#1 Cleaning your FSA 45
When you have finished using the trimmer, remove the activation key and clean using a damp cloth or soft brush.

#2 Storing your FSA 45
We recommend that you store your FSA 45 trimmer with around 40-60% charge (2 green LEDs), ideally within a temperature range of 0 to 50 degrees Celsius . Store your FSA 45 in a clean and dry area and keep out of the reach of children at all times.

#3 PolyCut™ blades
To get the most of the PolyCut™ blades, place them in a bucket of water for 12-24 hours before using them. This helps to make them more flexible and less likely to break.
Technical data
Rated voltage V
36
Sound pressure level DB(A)

 

80
Sound power level DB(A)

 

94
Weight KG / LB

 

2.5 / 5.5
Vibration value, right M/S² 
4.9
Vibration value, left M/S² 
1.7
Total length IN / CM

 

43 / 110
Standard cutting tool
PolyCutTM 2-2
Battery life time with PolyCut™ 2-2 MIN

 

up to 20
Battery life time with mowing head MIN

 

up to 12
Protection class
III / III
1927
Andreas Stihl founds an engineering office in Stuttgart and develops his own chainsaw.
1928
STIHL becomes a brand. The name represents the ceaseless quest of the engineer and company founder Andreas Stihl to ease the heavy labour of forestry work with his inventions.
1930
STIHL presents his portable petrol-powered chainsaw at the Leipzig trade fair – it is well received and orders flow in from across Europe.
CUSTOMER REVIEWS